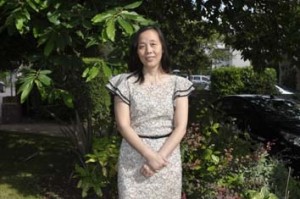 Guofang is a professional Chinese Mandarin teacher, who offers Mandarin lessons in local areas such as Twickenham, Richmond, Kingston, Surbiton, Egham as well as other regions in South West London.
Guofang has great experiences in teaching children and adults from absolute beginners to advanced levels, whether its one-to-one lessons or group sessions. Her students include the BBC staff at the BBC Group; and has also primary school children in London since 2010; during the time she has gained a great reputation for her 1-2-1 lessons, no matter whether the students are mature or young. Guofang is a supportive and encouraging teacher; flexible in her teaching methods and constantly prepared to help students in need for guidance. You can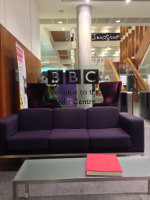 By the experience she has received in teaching, Guofang has the ability of using different methods catering for each individual student. From past years, she believed that fun in teaching Mandarin Chinese are – the learner's progress, a creative lesson plan and tailor made learning materials. On the other hand, integrating Chinese culture, Chinese history and cultural elements into the course could help hugely for learners to progress effectively and go on to further levels of the Chinese language.
In China, Guofang was educated in an university and focused intensively on the subjects of Chinese Language and Literature. In 2010 she took part in a Chinese training course for teachers in a Chinese learning centre located in London. Her work as a reporter and a radio presenter means that Guofang is a very skillful Chinese speaker, listener and writer. My service is listed on
TheTutorPages.com
.
Good news for all Chinese learners!!
Experienced teachers run group lessons for school students from primary to secondary all levels in Richmond and Twickenham area.
You can learn Speaking, Listening, Reading, Writing and Typing, or even focusing on your Chinese GCSE needs.
Small group, active atmosphere
Email: wkee6902@gmail.com
Contact number: 07912205686
Venue: Orleans Park School ( Secondary )
Address: Richmond Rd, Twickenham TW1 3BB
Lesson time: weekends
Lesson duration: 1.5-2 hours
What students say about us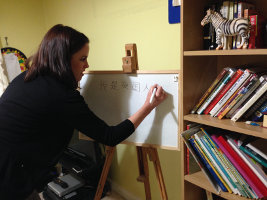 Congratulations ! Catchy has just passed HSK Level 3 test, with Listening 100, Reading 100 and Writing 92. The total score is 292, which is 97% in average. Well done!
"Ms Wang has been teaching my two daughters for more than a year. We found that Ms Wang is a very experienced and patient teacher. She helps to enhance the girls' ability in all areas e.g. listening, pronunciation, writing, reading and comprehension. My girls are always keen in attending Ms Wang's classes, even that there are homework every week. My family are pleased to have Ms Wang as my daughter's Chinese Tutor. " Claris ( mum of Feifei and Linlin, Feifei,10, Linlin, 10 )
"It was a real stroke of luck finding Guofang. She is knowledgeable, encouraging and reliable. I would wholeheartedly recommend her to anyone beginning to learn Chinese." Student Chris ( lawyer )
"Both of my daughters are really engaged with their mandarin lessons with Guofang. They are happy learning, practicing, playing and writing about Chinese language and culture and they are very exited to show what they know after every lesson. Guofang is a great enthusiastic teacher and I highly recommend her to anyone that wants to learn Chinese." Facundo Caro ( father of Sol 8 y/o and Mia 6 y/o )
"Guofang has been teaching our boys, aged 8 and 10, for two years now. She has shown herself to be a competent teacher, finding connection with the children easily and conducting her lessons in such a manner as to keep the boys continually interested.
Guofang has always readily understood and shared our ideas as well as desired objectives and again and again we saw targets successfully achieved.
Our boys' ability to speak Chinese has improved considerably. They had been both prepared by Guofang for, and then both successfully passed, the International Standardised Tests for Chinese (YCT – Youth Chinese Test).
We are very thankful to Guofang for her sterling efforts and dedication and would not hesitate to recommend her." Elena ( mum of two boys, aged at 8 and 10 )
"I couldn't rate Guofang highly enough, coming from another tutor when I moved to the UK, she was very quick to identify my existing strengths and weaknesses and to adapt her teaching to my current level. My progress has been quick and consistent ever since. – Student Adam (General Manager)"
'I have been learning Mandarin Chinese with Guofang for just under a year, and during that time I have learnt a huge amount, and also really enjoyed my studies. The materials Guofang uses are informative, follow a logical format and are useful in a practical context – I visited China earlier in the year and was able to make use of what I had learnt. Guofang is extremely good at explaining things in a way I understand, uses a number of different methods to ensure I make progress in reading, writing, listening and speaking, and also puts this in context in terms of Chinese history and culture. She is extremely professional, as well as easy to get on with, and I would strongly recommend her as a tutor. Thank you Guofang! – Student Cathy (University Business Manager)'
'Guofang has been a great tutor for me teaching a good balance of spoken and written Chinese and adding cultural information which help put the lessons into context.' – Student Louise (Accountant)
Guofang is clearly a highly qualified teacher, very effective with techniques that really work. She keeps the pace up, but is also calm and patient. Highly recommended. Student Joanne ( Marketing Director )
Chinese Courses and Materials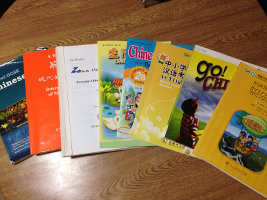 1-2-1 lessons for all levels and age groups.
Group lessons for school pupils and adults, from absolute beginners to advanced levels.
These are some of learning materials Guofang is using, however she likes to make her own materials to meet the student's requirements.
FEES
Level
1-2-1 Lesson
Group lesson
(2-4students,1.5–2hour session)
Group lesson
(5-8students,1.5–2hour session)
Primary
£35 per hour
£20 per hour
£16per hour
KS3
£35 per hour
£20 per hour
£16 per hour
GCSE
£35 per hour
£20 per hour
£16 per hour
A Level
£35 per hour
£20 per hour
£16 per hour
Degree
£35 per hour
£20 per hour
£16 per hour
Adult Learner (all levels)
£35 per hour
£20 per hour
£16 per hour
Notes: For 1-2-1 lesson, if the tutor travels to the student's place, there will be an extra charge of £5 – £10 for the travel cost.
Q&A
Session structure
The tutor teaches listening, speaking, reading at the session and also leaves home work for writing and typing once the student has learned Pinyin. After certain learning hours the learners can have these 5 skills in Chinese: listening, speaking, reading,writing and typing.
The skills you will get
Typing: is easiest to get. When you learn Pinyin (which is letter based) you will be able to type in flowing Mandarin. In the beginning of the lesson the tutor will help you so it will not be as difficult.
Listening and speaking: you practice them with tutor in all of the lessons so when you learn some words and sentence structures you can start speaking and can understand what the tutor speaks with limited words. Normally in the first 4-6 hours!
Reading: the students do a lot of practice in each lesson and also you will get tutor's recordings for the texts in the text book to help you read them. It takes a bit long to read lots of Chinese characters without Pinyin but in the end you will get there because the tutor always analyses the characters which will make you understand better.
Writing: this is the most challenging skill. The tutor doesn't expect the students to be able to write all of the characters which are taught during the lessons but actually it is very enjoyable: some of students enjoy writing and are doing very well. They are very good students and actually spend a lot of time doing written work for the homework.
Frequency / duration of sessions:
For an adult learner the session could last from 1 to 2 hours. According to the learner's situation it is suggested that having at least one session every week; the duration depends on your learning ability. However there are actually some 1-2-1 students taking two hour sessions.
How fast the students progress:
The tutor uses a specific text book for beginners. The learners should spend in total 48 hours learning 500 Chinese characters – afterwards he/she can move to the intermediate level (800 characters in total) so they can read Chinese newspapers. This is the level that learners stay on average. The progress learners can make depends hugely on the homework they completed. The tutor often adjusts teaching methods and contents to match the learner's ability. In fact, some of students are making progress much faster than average.
Contact
Address: 165 Varsity Drive, Twickenham. United Kingdom
Email: wkeewkee@126.com
Mobile phone: 07912205686